JIC (Joint Industry Council) fittings, manufactured in accordance with ISO 8434-2, commonly found in carbon steel and stainless steel alloys, are UN/UNF type parallel threaded clamping fittings.
The JIC system features a 37-degree tapered sealing surface on both male and female parts.
The sealing is done by establishing contact between the cone present in the male part and the cone present in the female part, commonly used in medium to high pressure systems, but with certain limitations when applied in systems with high vibration levels.
This sealing model, when two completely metallic surfaces meet, is known as metal-to-metal sealing, and is a completely mechanical connection.
Knowing how the JIC system works leads us to point out its advantages and disadvantages for the applications.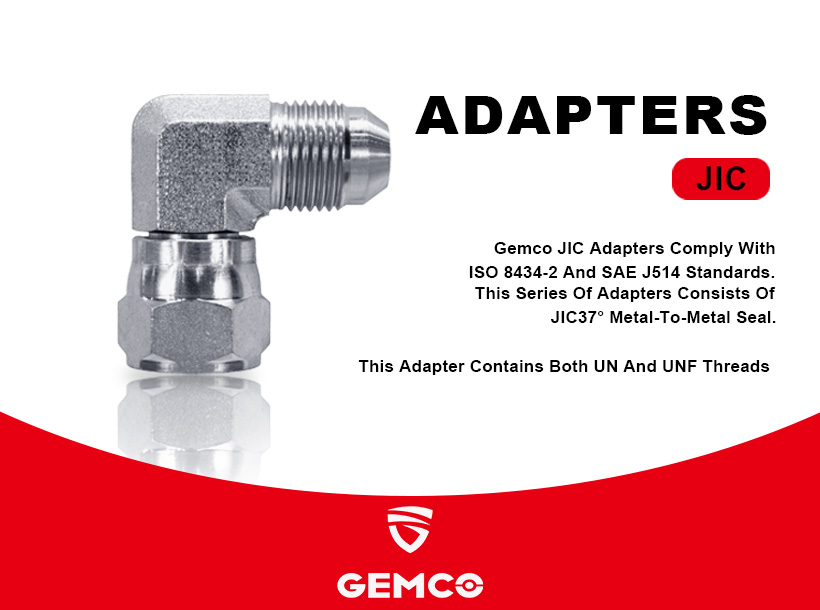 JIC 37° Adapters
Advantages of using JIC fittings:
They are commercially easier connections to find on the market;
The absence of an O-ring makes them desirable in high temperature applications;
Ease of installation and maintenance;
Ability to perform complete sealing at low torque levels.
Disadvantages of using JIC connections:
This system has a pressure rating considered medium to high;
The metal-to-metal sealing design limits them to hydraulic applications, and they can withstand only mild to moderate vibration in most applications;
Because it is a simple connection and compact construction, it is prone to being over-tightened during installation or maintenance;
Susceptible to damage and cracking due to over-tightening;
Limited reusability due to metal-to-metal sealing type.
Due to the shape of the sealing area, the ability to achieve a complete seal can be achieved at relatively low assembly torque levels.
This fact needs to be cautioned, as over-tightening during assembly can lead to collapse of the sealing area, and this collapse can result in reduced flow and even leakage.
Depiction of over-tightening JIC connections
In some cases, over torquing can cause the seal seats to break, which makes the JIC 37° sealing system fragile if installation is not careful.
Therefore, for maintenance and installation of this connection model, it is suggested that maintainers and installers have specific training and tools to assemble these connections.